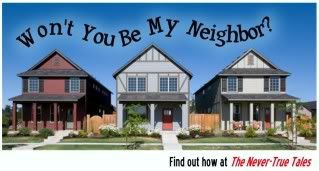 This Friday's guest post comes from Christine at Coffees and Commutes, a woman who astounds and inspires me with her quest to understand herself and her place in this world. I'm happy to follow her journey and learn more about myself along the way.
Time Away
I'm headed out of town this weekend for a much needed weekend pow wow with some of my best girlfriends. We gather at this time every year at a fishing hole buried deep in the forests of rural Ontario to spend hours scrapbooking and laughing free from the responsibility of running our homes and tending to our children.
I left my oldest son for a weekend getaway when he 15 months; my second son when he was 11 months. I was gone only a couple of nights for each, but it was time away nonetheless. Since then I've had several child-free vacations with my husband, and many weekends away on my own.
When I leave, I do so without reservation. The break offers perspective and helps me feel renewed. But more importantly, my leaving offers my sons quality time alone with their father. It's an opportunity for them to bond and to enjoy each other's company, without my interference or influence. They get to know each other better and are free to just be boys. Just as I deserve time away, so do they deserve time alone, together.
As mothers, we naturally love our children and feel responsible for their day-to-day well being. But sometimes I think it can be difficult to think beyond the intensity of emotion that surrounds this responsibility. I know it's easy for me to get wrapped up believing that I'm the most important person in their life.
I automatically assume that I'm the only one who can provide the comfort and love they need. When they tumble and bump their head or scrape a knee, I swiftly scoop them out of their father's arms. Isn't it true that there is nothing better than the loving arms of a mother? But it's injustice to my children, and my husband.
The reality is there will be times when I can't be there, when they will need to find comfort on their own and rely on coping strategies that don't involve me. That's real life. That's why I believe it's good for them to receive love and care from others and for them to understand that there are other adults in their lives who they can rely on and trust. The more adults who make a difference in their lives, the richer my boys will be for it.
It's true that there really is no substitute for a mother's love. But that doesn't mean they need only me every day. Time away from one another is healthy, for all of us. As much as it strengthens their bond with their father and others, so does it renew my ability to cope with the daily trials of motherhood. Whenever I travel, I come back missing them, wanting to see them, ready to enjoy them once again. I feel less frustrated and better able to cope.
That's why I can enjoy time away without guilt.
Want to be a guest blogger? Shoot me an email and I'll get you in the lineup! And if you're looking for more great around-the-neighborhood posts (including mine), hop over to Amy's.