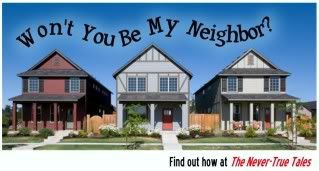 Great news! For the next few weeks I'll be participating in the Won't You Be My Neighbor Series hosted by Amy at Never True Tales. That means every Friday I'll be posting somewhere else and my blog will showcase one of the awesome writers whose blogs I love.

To kick off the series, I'm proud to have Stephanie, mama to all the drama, from The Scoop on Poop. Today, as she nears her first blogoversary (and 40th birthday), Stephanie's sharing what she's learned about blogging -- and life -- over the past 12 months. Enjoy!
Lessons from the Blogosphere
I've been hanging around the blogosphere for about a year now, and well ... I question what I am doing. A LOT.
I am this huge attention freak. If I don't think anyone is interested in my blog/my writing etc. I tend to get down. This blogging thing is hard! Write what your readers will like ... don't write the dark stuff, no one wants to read it ... keep it short and simple, stick to the point ...
*Sigh*
What's a blogger to do?
I'll tell you what I've learned: Just write. You honestly can't please every single person every single time. This is just as true in the blogging world as it is in real life. If I tried to write to please everyone ... that would just be a mess. My blog would then become not mine.
And that isn't being real. Not to me or to my readers. The ones that really love you will come around and comment whether your post is pure hogwash or a gripping the edge of your seat thriller of a confession or just your mundane every day life.
You will make mistakes, and your reader count might go down. You will lose a follower here or there. It happens. It's not worth the tears in your coffee when your blog post sits all day without comments on it (or all weekend). You will still shed them, but just remember, that's just you being your typical drama queen self. ;)
So, just write. Write about your day, your life. Tell your stories. Add a box to subscribe by email. Check your feedburner when you need a boost. Just because people aren't tweeting about your posts doesn't mean people aren't reading them. I'd rather have a few regular comments than a bunch of random comments all the time anyway.
Self discovery, a boost of confidence, camaraderie with fellow bloggers, rediscovery of my talents...
This is what I have learned in my year of blogging. I have made good friends, I have made new friends, I have started writing again, and most of all?
I've discovered I am not alone.
Want to be a guest blogger? Shoot me an email and I'll get you in the lineup! And if you're looking for more great around-the-neighborhood posts (including mine), hop over to Amy's.